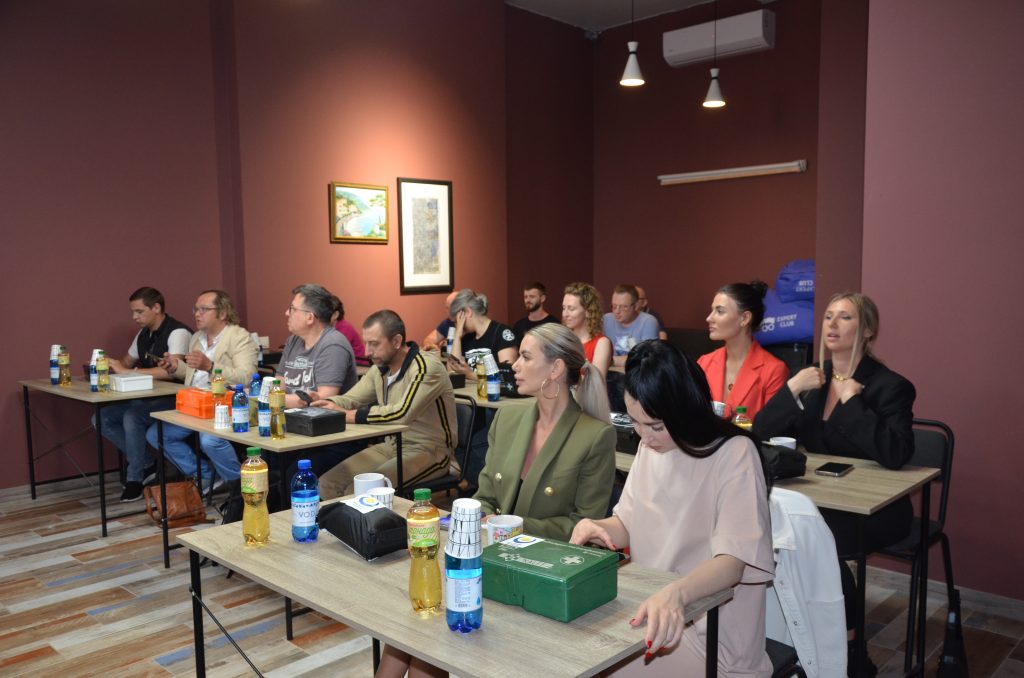 On 8 June, Interfax-Ukraine and the Club of Experts, with the support of the Adonis Medical Group of Companies and under the auspices of the charitable organisations Help For Ukraine and Pryirpinia Community Foundation, held a training course for journalists on first aid in case of injuries and traumas.
The training consisted of theoretical and practical parts. Journalists from leading and regional media learnt how to act properly in case of severe injuries, provide first aid, and determine whether a person is conscious. Mariana Bolyuk, an anaesthesiologist and postgraduate student of the Department of Anaesthesiology and Intensive Care at the Shupyk National Medical University of Ukraine, told the audience about this. She demonstrated in practice how to apply a tourniquet and a bandage for clarity on a "live dummy" – Maksym Urakin.
During the training, the participants also got acquainted with the peculiarities of the MARCH medical protocol, where each letter of the abbreviation indicates a particular danger (Massive Bleeding – Airway – Respiration – Circulation – Head injury/Hypothermia).
It was useful to learn that not all antibiotics and painkillers can help. On the contrary, in some cases, they can even kill an injured person in case of severe bleeding. The journalists were introduced to the principles of wound tamponade, bandaging, and breathing support for unconscious people. They also learned how to distinguish between types of injuries and bleeding and how to stop them, as well as the basic contents of tactical first aid kits.
Examining a victim also includes three stages: finding out whether the person is conscious, breathing, and whether they are bleeding critically. All this was taught to the media professionals during the training.
For example, a large wound needs to be tamponaded properly. After tamponading, a tight bandage is applied to the wound, and you can try to loosen the tourniquet, but this must be done in accordance with the protocols for providing assistance. It should be remembered that a wounded person in shock can behave unpredictably, so this must be taken into account.
It was also interesting to get acquainted with the instructions of representatives of charitable foundations – volunteer Kostyantyn Marchenko and the head of the "Pryirpinya Community Foundation" Tatyana Lagovska. According to Kostyantyn, buying cheap Chinese turnstiles for yourself or to send to the front line is not only impossible, but also life-threatening. As well as using home-made ones.
They do not work, and the victim loses his or her chance for life every second. They are not certified and may not work at the right time. A properly fixed certified turnstile can save lives. Don't have a pen or marker to mark the time on the turnstile? No problem – mark it… with blood. This also saves time – you can pay more attention to the wounded.
According to Tetiana, you should always have a haemostatic turnstile with you. After all, the most dangerous type of injury is massive blood loss. With such an injury, a person can die in a matter of minutes. Massive bleeding kills in 1-3 minutes if you have a major artery broken. If you lose consciousness in 40-50 seconds, you will die in 2-3 minutes.
Then everyone could practice and develop tactical medicine skills on their own, including trying to apply a tourniquet.
The fighting is still going on in Ukraine. Therefore, everyone, not only journalists and the military, needs to undergo the relevant training and more than once. Our lives depend on it. Both ours and our loved ones' lives. Especially when time is running out in minutes.
During shelling or falling debris, the first people to arrive at the scene are not doctors or firefighters, but direct eyewitnesses of what happened, including journalists. They are the first to help the victims and call the experts. Therefore, it is vital not only to know but also to be able to apply the knowledge gained during the training in practice in the realities of our time. And not only at the front, but also in the rear. After all, shelling of our country's territory continues almost every day. And you can get injured by a rocket fragment or a "shahed" anywhere and anytime.