Orphans with special needs have the hardest time during the war. This is the opinion of the charity organisation Help For Ukraine, which organised an unusual "chemical mission" to the Berdychiv Special School in Zhytomyr Oblast. In addition to a tonne of traditional humanitarian aid, the volunteers organised a "Chemical Show" and warm communication.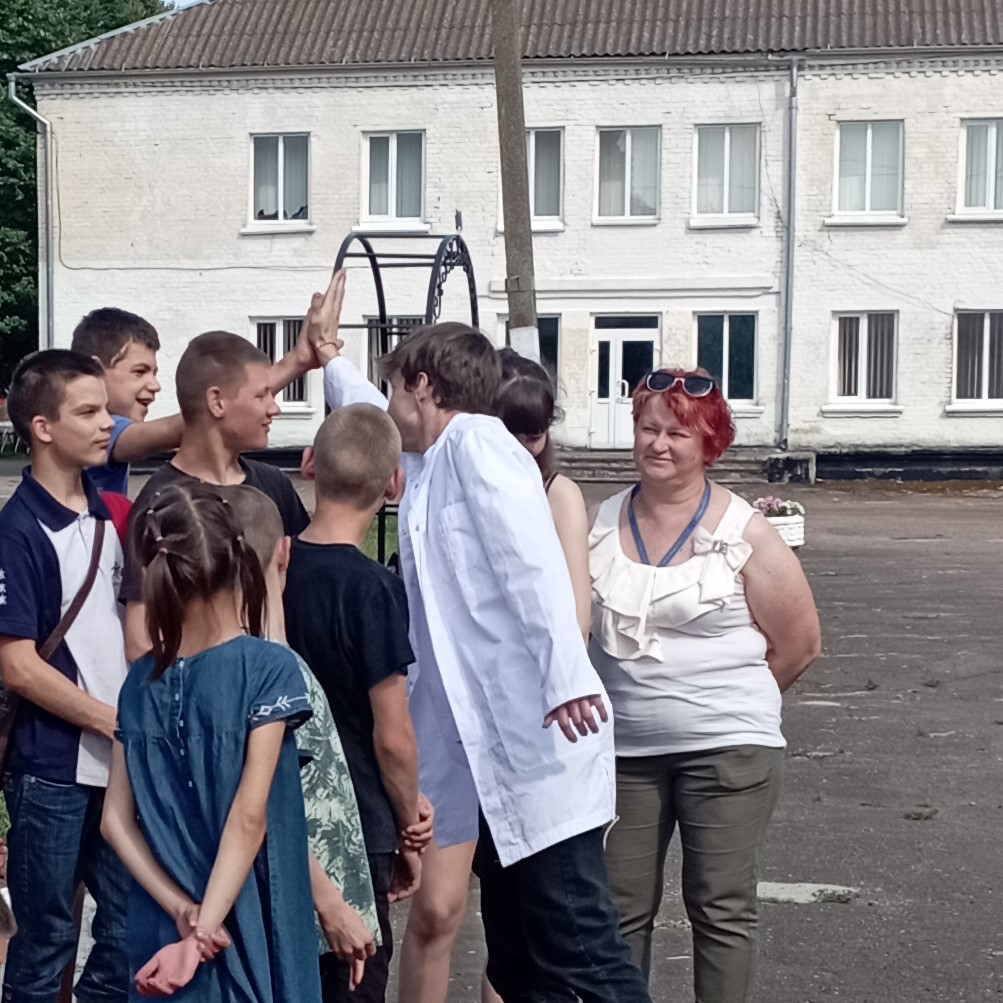 Last weekend, volunteers of the Help For Ukraine charity organisation brought a tonne of humanitarian aid to the children of the Berdychiv Special School. About a hundred children with special needs received clothes, shoes, coffee, food packages, toys and sweets. Most of this was delivered from Germany by the Hamburg branch of the ASB charity organisation.
However, the peculiarity of this humanitarian mission was different – the volunteers organised an entertaining "Chemical Show". The children were enthusiastically watching the wonderful world of discoveries and sizzling experiments: they tasted orange-flavoured liquid nitrogen and tested their own superpowers, arranged a fog crazy explosion followed by a mini-disco party. They also "set fire" to their hands, took a magic shower, prepared magic mixtures from which fabulous miracles were born…
"These children are not called sunny for nothing. They are sincere in their emotions, eager for contact, cheerfully surprised by everything, radiating positive and goodness. Trying to understand why fire does not burn, but ice "bites". And there was a whole sea of joy, applause, sincere emotions even when the show was over," says Vilen Fatalov, Vice President of the Charitable Foundation.
"Indeed, such children, having mastered communication, give others a lot of love and joy. And unlike us, they are happy with things that are ordinary for us. They are no less clever than all children, they can laugh and rejoice sincerely and naively. And they are not indifferent to others. And as they grow up, many of them learn to face the adult world without illusions: they develop, learn to take care of themselves, and lead a normal life.
The children of the Berdichev Special School are special. And not only because they are deprived of parental care or are orphans and have congenital intellectual disabilities and autistic disorders. They have faced difficult challenges since birth, and even before the war, they needed special attention. Now they need it even more. And not only material, but also moral… For them, a festive atmosphere is extremely important during the war.
A generous wave of kindness brought a lot of joy, warmth and fairy-tale magic! The happy emotions and joyful sparkle in the children's eyes were the most significant proof that, together with their partners – the international foundations Nova Ukraine, Medical e.V., OKKO petrol station chain and German partners – the volunteers of the charity organisation Help For Ukraine, whose ambassador is Yevgeny Koshovoy, did a great job – they gave them moments of true happiness.
"It's nice to hear laughter in the street and see smiles on children's faces despite the war," said Stepan Aslanian, President of the Help For Ukraine charity organisation. – "They are the best thing in the whole world! We are glad that we have brightened their lives and presented them with a fairy tale this day. And we will definitely come back with more gifts.
We are grateful to our partners – the international foundations Medical e.V., Nova Ukraine and OKKO petrol station chain and our German partners – for the opportunity to help special children with humanitarian aid!"
"There are 90 children in our institution, including 38 orphans," says Natalia Grabarchuk, deputy director. And they need the attention and support of adults like no other. We are sincerely grateful to the people with a big kind heart who do not forget about them and are engaged in charity, helping those who really need it: the charity organisation "Help For Ukraine" and its partners – the international foundations Nova Ukraine, Medical e.V. May the Lord reward them all a hundredfold!"
The children themselves were direct in their wishes to the volunteers for health, peace and that the Lord would protect the benefactors in their lives.