The weekend was once again fruitful for the Help For Ukraine Charitable Organisation. Hundreds of kilometres of roads in Ivano-Frankivsk and Zakarpattia regions to collect humanitarian aid from our partners for Kherson and the Bilopilska community affected by the Russian terrorist attack on the Kakhovka hydroelectric power station.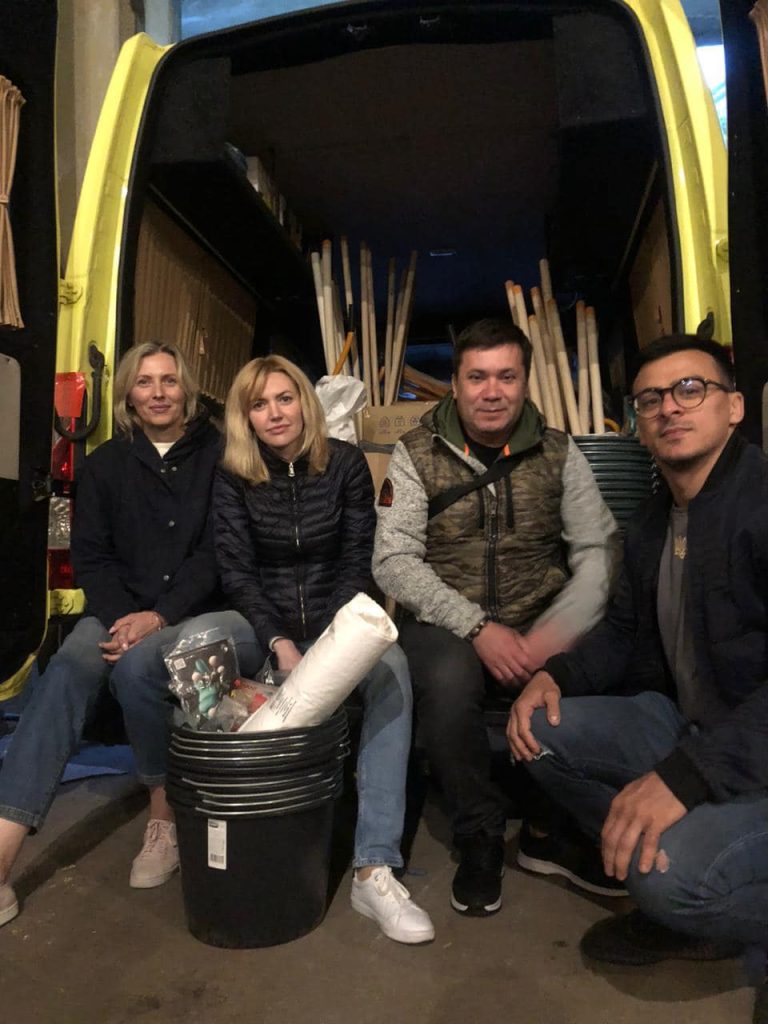 We set off, as usual, at dawn. Neither the early hour nor the bad weather was an obstacle. The first destination was Tatarivskyi district of Ivano-Frankivsk region. Here we met with our new partners – local volunteers and parishioners from South Carolina who had raised funds for humanitarian aid to Ukrainians. We bought food here at the local ATB.
A wide variety of canned food (stew, canned beans, condensed milk, etc.), sugar, oil, noodles, cereals, coffee, biscuits, butter, toilet paper, other detergents and hygiene products – this aid was intended for Kherson and Belopolye regions.
In the evening, we moved on. The road was long, so we repeatedly bought drinks at OKKO filling stations and joined the "Eye for an Eye" campaign. Our next stop was Ivano-Frankivsk, and from there we went to Chernivtsi. Here, our partners loaded military uniforms, charging stations and boots for the military. And then on to Kyiv.
Without much time for a break, they got back to work – volunteers can't do otherwise. After all, being a volunteer is not a profession, but a lifestyle. Moreover, each of us knows that bringing the cargo is not half the battle. It needs to be unloaded at the warehouse, checked for integrity, packed, and tightly wrapped to ensure that everything is delivered in one piece.
Our sincere old friends, the Kyiv City Council deputy Liliya Pashynna and the chairman of the Standing Committee on Budget and Socio-Economic Development of the Kyiv City Council Andriy Vitrenko, helped us with this task. So the work was, literally, in full swing. And the next day, in the evening, the humanitarian aid was sent to Kherson.
The humanitarian catastrophe left thousands of people without homes and essentials. We have collected food, detergents and hygiene products, chainsaws, shovels, buckets and more. All of this will be distributed among the residents, taking into account safety requirements and the needs of those affected by the flooding.
We thank the Nova Ukraine International Charitable Foundation, OKKO petrol station chain and Nova Poshta logistics company for supporting us in our efforts to help Ukrainians and bring our victory closer!
We would also like to thank ATB supermarket chain for their help in organising the purchase of products and their responsive attitude.
But most importantly, we would like to give a low bow to our new partners from the United States, the parishioners from South Carolina, who organised the purchase of the necessary food!
We are going to volunteer until we win, there are no other options. We have no plans to stop. We will volunteer as long as it takes.
We are very flexible. As soon as the need in one area is met, we promptly open another. So anyone who has suffered or needs help, please contact us. We are ready to provide the necessary help and support.